Posted on February 2, 2009
Valentines Day is one of our favorites! We love everything about it – the pretty cards, the chocolate, the hearts and the hunt for the perfect Valentines day outfit! We thought we'd each share some of our finds with our readers.
xox,
The Francie Girls
Kiki here! As you know I love writing to my penpals and collecting cool paper and stationary. I'm off to Etsy once again to find inspiration. I love to make my own Valentines but it's so much more fun and easy when I print out these cute vintage designs from Etsy Seller Candyconnection22 and cut them out as decoration for my cards. Check out the extensive selection of vintage card scans that this seller has!
Jayden here! I can't wait to wear these adorable hear print knee highs with a denim mini and red cardi! Underneath it all I will have on my Angel Heart Francies. Check out our Rainbow Hearts and New for Valentines day "Sweet Love" prints too! I hope I get a card from a secret admirer this year!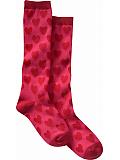 Piper here. I've got cards for my BFFs but I'm not into this boy girl stuff you know! Show me a boy who can rock out better than me on the drums and I will consider accepting a valentine from him. Otherwise I'll look good kicking some butt in these sparkly Chuck Taylor's from Converse.
Lexi here! Ok I admit it. Total Sweet Tooth. I looooove valentines day Chocolates! And Sweethearts. Basically all candy. Which my mom doesn't let me eat all the time. But my daddy always buys me these classic sweethearts from Necco on Valentines day. I do flips for them!
Hi! It's me Marly. My mom is a single mom and I always like to make her something really special on Valentines day. Since I just learned how to knit I decided I would knit something for her. My teacher helped me find this project to make a felted guitar strap, on the Lion Brand yarn site. It's just easy enough for a beginner like me and I know my mom will love it! (Note: you have to sign in for patterns but they are free!)